Finished Finally at 80 hours of weaving!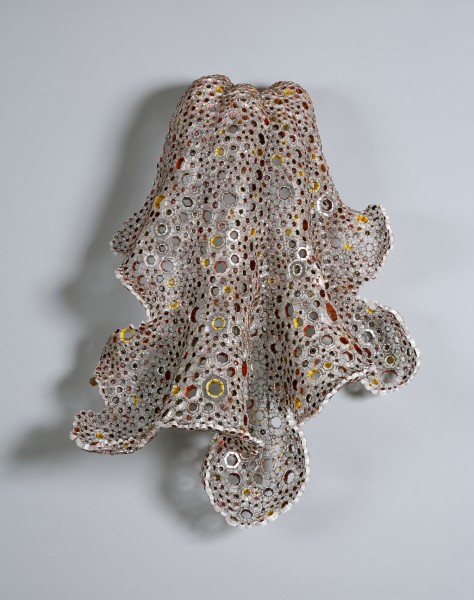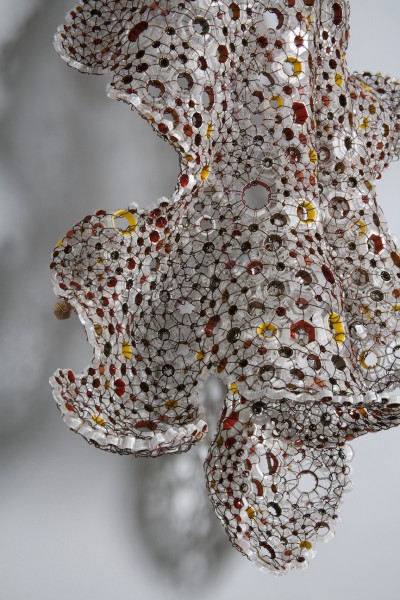 A 2 minute recording I made for ArtPrize about Cascade 8/3/13
My Name is Kait Rhoads, I live and work in Seattle WA and the name of my piece is Cascade.
The form is meant to illustrate the way I release my sadness and sorrow surrounding the loss of the last of my living grandparents.  Surrender is difficult for all of us, and the anticipation of death a constant reality of life. I see in their preparation to let go of this mortal coil the inevitability of my own participation in the same form of release. Will I be able to surrender gracefully and in a timely manner or will I cling to life until a bitter end?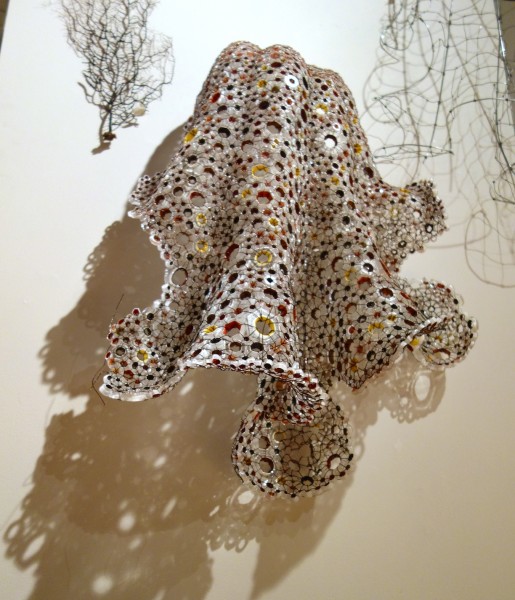 The form is constructed from many hexagonal shaped blown glass tubes or Hollow Murrine.  I make the tubing in the hotshop by blowing colored bubbles into a series of hexagonal steel molds, after they are annealed I then cut them into slices and fire polish them in a kiln so that the tubing becomes conical. You can click on this link to see a video of the process if you like  – YouTube Video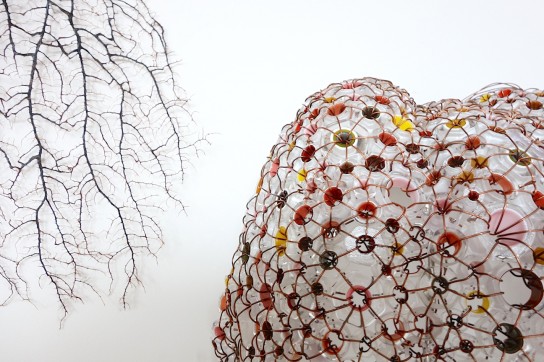 Using patined copper wire I link or weave together the individual units onto a stainless steel structure to create the sculpture.  It is slow and meditational work, during making it I thought about Hilda, now deceased and Margaret now 99 years old.
The Meijer Sculpture Gardens and Park were the inspiration for this piece, I visited the park last year and loved the juxtaposition of artwork and nature.  When I was asked to participate in Shattered the idea for this form came to me immediately, which is rare for me.  It is an honor to participate in this show, thank you for listening.
7/23/13
I am so excited at how Cascade is coming along.  To me it is monstrous yet beautiful at the same time, a quality that I have been striving to capture for a while.  I think that the form of the head of the piece is very classically angry cephalopodical.  The deep valleys remind me of the mountains on Oahu, creased by the passage of water and time.